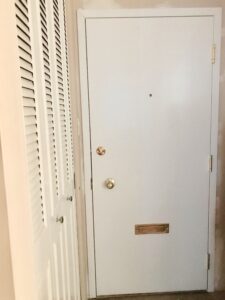 February 2021, I left a stove element on, burnt a pot, and my door was broken by the firemen.
I wrote a post called, A Burnt Pot. . . with Apologies.
On Monday, August 9th, my broken door was replaced with a "fire-proof door."
It took 5 months to be installed with Covid, shipping issues — no doors in stock, me not understanding deep gratitude — the door needing to be a "fire door" because of building (planetary) codes.
My curious mind wonders about the symbolism of a door; my dream book tells me a door represents "the sheltering aspect of the Great Mother."