September 8th – December 8th, 2021
9. Instantaneous Transmission and Transformation
11. Attraction and Repulsion – Part 1
Attraction and Repulsion – Part 2
Using Universal Law Invocations for a Changing World
I have created a Guidebook with a deck called, Cards of Balance,
to easily learn these 13 Universal Laws, 13 Divine Blessings & Virtues,
and 12 dimensions connected to a 13 chakra system.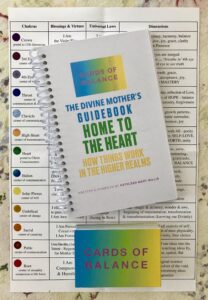 Click on the photo above for more info.
Sanat Kumara: "There is room enough in each of you to Love everybody."
Heavenly Blessings: Abundance with Sanat Kumara (audio)
Commander Ashira of the United Forces of the Outer Galaxies
– Radio Shows, Meditations on one page
The Halion Engineers and the Healers of Tralana
Increased Frequency, Expanding Vibrations:
How Ancient Sites & Rejuvenation Align with Love!