Hi there!
Thank you for visiting this page.
In 1999 I created a small business to make goods,
namely greeting cards and fabric goods,
for shops here in British Columbia:
k a t h l e e n   m  CARDS & FABRIC GOODS
To help support the online work of Voice of Freedom,
& our community service with A Door To Everything Society,
I've created some items for here.
I also do card readings: how things work in the higher realms.
---
Re-usable Gift/Delicates/Produce Bags
With plastic grocery bags being outlawed – what to use?
These sacks made from recycled laundered fabric
have elastic drawstring & are very lightweight.
Great for grocery store produce.
And pretty – for re-usable gift bags
or delicates laundry bags 🙂
made in Vancouver
laundering instructions: soap, rinse, hang
(very quick to dry)
price: 3 assorted bags – $22 CAD
(shipping included)
email me to order
---
6 Pack of Assorted Greeting Cards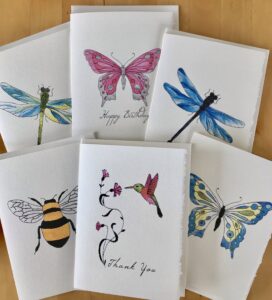 1 of each design included
originally embroidered & hand painted,
these greeting cards are infused with Divine Energy,
printed on deckle edge paper and envelopes
To see more: www.kathleenm.ca

made in Vancouver
price: $24 CAD + shipping
email me to order

---
Spaceship T Shirts
use as night shirts or everyday ~ 100% cotton T shirts
neck, sleeve, hem raw edges for super-comfort
ladies sizes: S M L & XL
(I can also put images on men's T shirts — email me, if interested)
images are iron-on T shirt transfers
made in Vancouver
laundering instructions: wash & dry gentle
price: $33 CAD each + shipping
email me to order – with image choices & T shirt sizes

---
Lotus T Shirts
use as night shirts or everyday ~ 100% cotton T shirts
neck, sleeve, hem raw edges for super-comfort
ladies sizes: S M L & XL
images are iron-on T shirt transfers
made in Vancouver
laundering instructions: wash & dry gentle
price: $33 CAD each + shipping
email me to order – with image choices & T shirt sizes

---
Animal Totem T Shirts
use as night shirts or everyday ~ 100% cotton T shirts
neck, sleeve, hem raw edges for super-comfort
ladies sizes: S M L & XL
images are iron-on T shirt transfers
made in Vancouver
laundering instructions: wash & dry gentle
price: $33 CAD each + shipping
email me to order – with image choices & T shirt sizes

---
Violet & Blue Flame T Shirts
Violet Flame  & Blue Flame
come with print-outs, explanations
ladies sizes: S M L XL for women
email me to order please – with image choices and T shirt sizes