Women in Mexico have been protesting gender violence and inequality for years.
March 9th, the day after International Women's Day, they are planning something new — mass withdrawal — not going to work for the day.
The latest idea was spurred on by the violent death, February 9, of 25-year-old Ingrid Escamilla.
In 2009, Elina Chauvet began the Red Shoe Installation, shown in the YouTube below, because of the loss of her sister to domestic violence.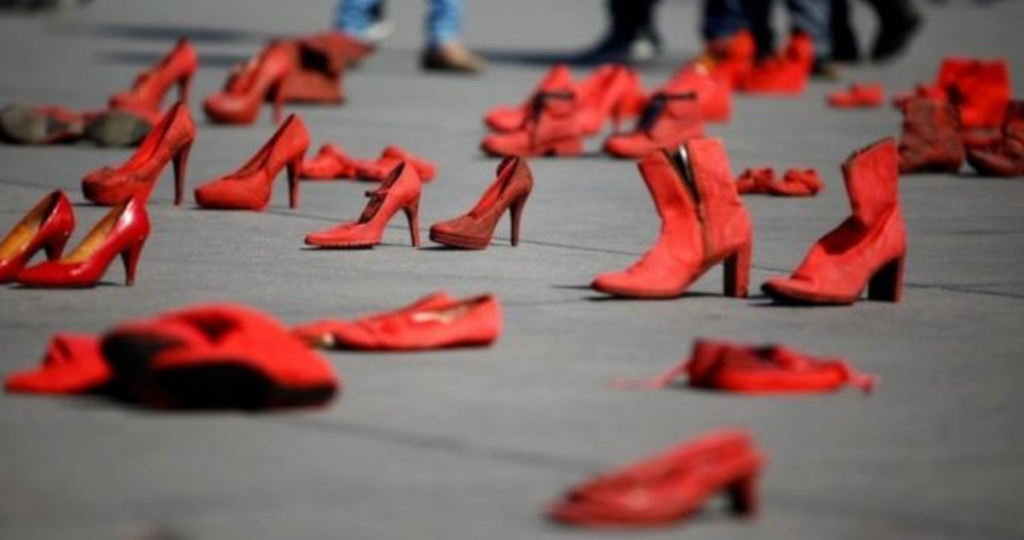 Around the world women have been protesting in solidarity.
These words are some of their chants:
The patriarchy is a judge who tries us for being born
and our punishment is the violence you see now.
It's femicide, impunity for my murderer,
it's disappearance, it's rape.
And it wasn't my fault, not where I was,
nor how I was dressed.
You are the rapist; you are the rapist.
It's the police, the judges, the state, the president.
The oppressive state is a macho rapist.
Here's a post about women in Chile:
Female Protesters Dressed in Red Masks
March on Santiago in Demonstration
Against Gender Violence & Inequality in Chile
By Emily Webber, Daily Mailonline, November 30, 2019
https://www.dailymail.co.uk/news/article-7741227/Female-protesters-dressed-red-masks-march-demonstration-against-gender-violence.html
Women in Chile dressed in red masks are pictured marching together in Santiago against gender violence and inequality.
The activists are seen wearing red masks covering their entire face as they come together to stand against social and economic inequality in the Chilean capital.
Protests started on October 18, 2020 against the entrenched political elite that comes from a small number of the wealthiest families in Chile.
And in British Columbia, in February of this year, Indigenous matriarchs hung red dresses in protest for missing and murdered women connected to oil pipeline "man-camps."
Red is a powerful colour.
Let us stand together with these courageous women,
for the creation of a new way.
It time for change, for gender violence, for inequality, to stop.
Please join with me invoking below.
---
I invoke the Mother/Father One,
the Mighty Ones, our Star Family,
the Divine Blessings, Virtues, Qualities,
Universal Laws, the dimensional growth patterns
for the ELIMINATION of gender violence ON GAIA
for HOPE, PEACE, LOVE, JOY – for BALANCE.