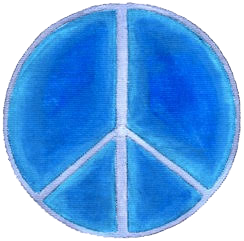 The Middle East is not confusing — judgements/blockades on supplies for millions of starving Yemenis, no apology/war between Palestine and Israel, no forgiveness/the Syrian refugee crisis — from a higher dimensional point of view.
But when will this come to an end?
From September 28th to October 10th, 2017, 40 thousand Israeli and Palestinian women marched for 14 days, for peace.
November 22, the presidents of Turkey, Russia, and Iran met to find a solution for the six long years of hostilities in Syria that have cost nearly half-a-million lives.
Saturday, December 9, Iraqi Prime Minister, Haider al-Abadi, announced that the three-year war aimed at driving Islamic State out of Iraq has been successful and come to an end.
What More We Can Do?
August 2013, Sanat Kumara through Linda Dillon, channel for the Council of Love, taught us the Universal Law of Above and Below, and spoke about Syria, Egypt, Iraq, Iran, and the sense of peace:
"Why are the people in Syria – all factions – we do not favour factions – why are they not holding peace in their heart? Because when peace is in the heart, there cannot be outward aggression.
"Are people fleeing? Yes. Now let us also say that there are two categories of people fleeing and we do not mean political categories. There are people who are fleeing because they are fearful and I am not saying that it is just the fear that freezes. For some of them it is fight or flight, for others it is just nervous fear.
"So there is that category. And then there are those who are fleeing who are saying this is a time of turmoil and upheaval and this is my chance to move elsewhere. And because the borders will be open and refugees will be accepted, it is a chance to start a new life. So that is part of it.
"But the key to Syria is every person on the planet – yes, with Archangel Michael and with us – is to send the peace, the consideration and the Love to Syria. There is a collective energy that is coming to the surface, not just in Syria, but we are speaking of this, of inadequacy, a belief in the lack of self-worth or in righteousness, but it is misplaced righteousness.
"It is not righteousness that is in accordance and alignment with the Divine, which is Love. It is a manipulated understanding. So is it a power struggle? Absolutely. Is it violent? Absolutely. Does it need to come to the surface to be eradicated rapidly, not by the invasion with more violence, but with peace? Yes, it does.
"Because – let us use this example and this is where a practical application of this Law comes into form and I would ask all of you to do this with me – there is no war above. Period. It is a place of harmony. It is not a place of turmoil. It is not a place of anger and frustration. That does not exist.

"Therefore there is no room for it below. So what you see is the alignment, as if there is a cloud of Heaven above Syria, and the light is pouring down, and that Light is filled with Michael's Blue Flame of Truth, of Justice and of Peace. And from each of your hearts, you have the capacity to send directly to the heart of Syria, of Egypt, Iraq or Iran, that sense of peace.
"When you become outraged at atrocity – and you are correct it is outrageous – but when you join into that energy of drama, then you are contributing to it. So you have need to align with the Divine Qualities and with Divine Law. And in that way do not underestimate your strength. Collectively you have the power to stop these factions fighting in this very moment. You send the energy of peace and you hold that vision and you do not tolerate or engage in any other vision." (1)

When we align ourselves, mind, heart, will, with the Mother's Plan of joy, Love, and peace — rain that Light filled with Michael's Blue Flame of Truth, of Justice and of Peace on our own war within — we create our Nova Earth.
Stepping forth, asking for apologies, giving apologies to self, family, friends, we contribute to world peace, as within, so without.
February 2015, Archangel Michael alluded to forgiving our selves and everyone for everything on An Hour With An Angel:
"Peace is joy. Peace is Love. Peace is harmony and balance and truth and the ability to create and to co-create Nova Earth, Terra Gaia, without one modicum of concern or fear, of interference, of disturbance, of dissonance.
"Now, long ago we have talked about doing the Meditation for Karmic Dispensation and most of you have done this. What we would recommend is that you do this meditation – and you take, you can choose, you can take countries or tribes or situations – take them along with you to the Karmic Board, and allow them to receive the karmic forgiveness, erasure, that can take place, and finish this off rapidly. That will contribute mightily to the peace brigade." (2)
****
Here's to peace on Gaia — the alignment — as above, so below:
". . . a cloud of Heaven above Syria, and the Light is pouring down, and that Light is filled with Michael's Blue Flame of Truth, of Justice, and of Peace."
From our hearts, sending that sense of peace:
". . . directly to the heart of Syria, of Egypt, Iraq or Iran, that sense of peace."
Please join us 8 @ 8
being the highest vision
of  joy and Love, peace
for the Middle East,
for all of Gaia.
---
Iraq's Prime Minister Announces Three-Year War
Against Islamic State Has Ended
December 09, 2017, VOA News
https://www.voanews.com/a/iraqi-pm-announces-three-year-war-against-is-has-ended/4156570.html
Iraqi Prime Minister Haider al-Abadi announced Saturday that the three-year war aimed at driving Islamic State out of Iraq was successful and has come to an end.
"Our forces are in complete control of the Iraqi-Syrian border and I therefore announce the end of the war against Daesh [IS]," Abadi said at a conference in Baghdad that was arranged by the Iraqi journalists' union.
IS fighters seized control of nearly one-third of Iraq in the summer of 2014, threatening the very existence of the Iraqi state. Over the past three-and-one half years, however, Iraqi forces backed by the U.S.-led coalition recaptured all of the territory.
The militant group is still capable of executing insurgent attacks in Iraq, as it did in November when it regained control of Rawah, the last town it held, near the border with Syria before relinquishing it again over the following weeks.
Iraq now turns its attention to rebuilding the many areas of the country that were devastated by the fighting and assisting some 3 million Iraqis who are still displaced.
---
Thank you to Sitara for finding this post.
Blinded by Her Husband, She Fights for Justice (and Aces Law School)
By Dan Levin, The New York Times, Dec. 8, 2017
https://www.nytimes.com/2017/12/08/world/canada/canada-abuse.html?emc=edit_th_20171209&nl=todaysheadlines&nlid=23430587
VANCOUVER, British Columbia — During the summer break from her graduate studies in Canada, Rumana Monzur returned home to Dhaka, the capital of Bangladesh, to tell her husband she wanted a divorce. He reacted with leaden silence.
But a few hours later, he strode into the room where she was working on her thesis, locked the door and pinned her down on the bed. Then he dug his fingers into her eyes, blinding her. He also bit off the tip of her nose, and tore flesh from her cheeks and her right arm.
"I won't let you be someone else's and I won't let you study," she recalled him saying as their terrified 5-year-old daughter tried to pull him off Ms. Monzur's chest. "He told me in a hissing voice, 'I wanted to kill you with acid, but good for you, I couldn't find any.'"
In the days and weeks after, Ms. Monzur endured multiple surgeries and a smear campaign by her husband and his family, who tried to paint her as the aggressor in the attack. Refusing to stay silent, Ms. Monzur demanded justice from her hospital bed.
The savage assault and her outspoken defiance of female victimization made headlines in Bangladesh and Canada, galvanizing public support that prompted the Canadian government to allow Ms. Monzur to immigrate with her daughter and parents in 2011.
---
Intifada Through the Eyes of a Musician
Al Jazeera, December 9, 2017
Ramzi Abu Redwan was a child when he took part in the first Intifada 30 years ago. This is his story.
Wikipedia: The First Intifada or First Palestinian Intifada was a Palestinian uprising against the Israeli occupation of the West Bank and Gaza. The uprising lasted from December 1987 until the Madrid Conference in 1991, though some date its conclusion to 1993, with the signing of the Oslo Accords.
The uprising began on 9 December, in the Jabalia refugee camp after an Israeli Defence Forces' truck collided with a civilian car, killing four Palestinians. In the wake of the incident, a protest movement arose, involving a two-fold strategy of resistance and civil disobedience, consisting of general strikes, boycotts of Israeli Civil Administration institutions in the Gaza Strip and the West Bank, an economic boycott consisting of refusal to work in Israeli settlements on Israeli products, refusal to pay taxes, refusal to drive Palestinian cars with Israeli licenses, graffiti, barricading, and widespread throwing of stones and Molotov cocktails at the IDF and its infrastructure within the West Bank and Gaza Strip. Read more. . .
Lao Tzu: "It is a time when many of you are going through a period of reflection, of life review, of examination of what you have done and not done, accomplished and for many of you this is tinged a little with judgment and sometimes disappointment, feelings of what might have been.
"My friends, this is not the purpose of this examination and reflection, quite the contrary. The purpose is to see and to exclaim and to claim everything you have done, everything you have come to know, everything that you have experienced. Not judging it as good, bad, or indifferent but simply embracing it for the journey it has been." (3)
---
To Date, Palestinians' Jerusalem Protests
are a Case of 'Intifada Lite'
By Avi Issacharoff, The Times of Israel, December 9, 2017
Although Hamas chief Ismail Haniyeh has enthusiastically described the Palestinians' violent protests against US President Donald Trump's recognition of Jerusalem as Israel's capital as a "blessed intifada," what has actually been taking place on the ground in the territories is nothing like the outbreak of the first intifada 30 years ago. It also does not remotely resemble the first days of the second intifada, in the wake of then-opposition leader Ariel Sharon's visit to the Temple Mount in September 2000.
At most, the two days of protests might be called "intifada lite," and even that would be a bit of an exaggeration. Only a few thousand people have taken to the streets in the West Bank and Gaza.
---
An Invocation
I invoke the Mother, the Mighty Ones, and Sanat Kumara,
all Universal Law, blessings, virtues, qualities,
and dimensional growth patterns
for peace in the Middle East.
---
Footnotes
(1) "Sanat Kumara Explains the 3rd Universal Law of Within & Without, Above & Below," channeled by Linda Dillon for the Council of Love August 31, 2013, http://counciloflove.com/2013/08/sanat-kumara-raj-explains-the-3rd-universal-law-of-within-without-above-below/
(2) "COL Tsunami of Love, Drought & Peace Meditations," An Hour With An Angel, "Archangel Michael: I Need Your Help" channeled by Linda Dillon for the Council of Love, February 3rd, 2015, http://counciloflove.com/2015/02/archangel-michael-i-need-your-help/
(3) "ACCEPT LAO TZU'S HUMBLE GIFTS OF A GNARLED STICK, AN OIL CUP, A BALL OF TWINE, AND LAHOCHI THAT HE OFFERS IN LOVE," channeled by Linda Dillon for the Council of Love, May 18, 2012, http://counciloflove.com/2012/05/accept-lao-tzus-humble-gifts-of-a-gnarled-stick-an-oil-cup-a-ball-of-twine-and-lahochi-that-he-offers-in-love/