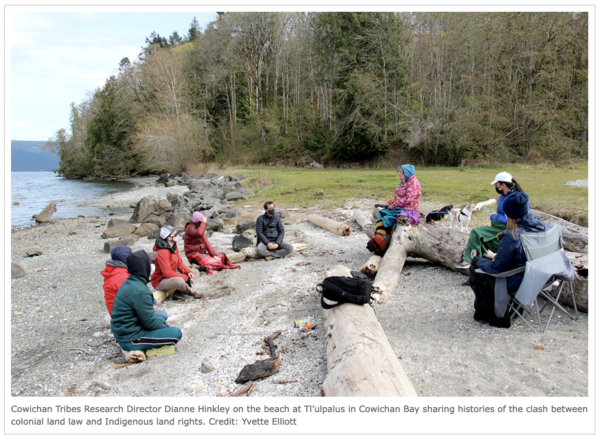 UVic News, April 8, 2022
https://www.uvic.ca/news/topics/2022+first-jd-jid-graduating-class+media-release#_=_
Four years ago, the University of Victoria launched the world's first law degree to combine the study of Indigenous and non-Indigenous laws. This spring, students in the inaugural class of this historic program are preparing to cross the stage to receive their degrees.
UVic's joint program in Canadian common law (Juris Doctor, or JD) and Indigenous legal orders (Juris Indigenarum Doctor, or JID) equips students with the knowledge that allows them to draw from, engage with, and work across multiple legal systems.
Students graduate with both professional degrees (JD/JID).
Indigenous law is an essential part of Indigenous peoples being peoples and it is foundational to Canada's multi-juridical system. Law is an essential ingredient of every society because it is a part of governance, it is a part of how we manage ourselves and it is a part of how we are responsible to ourselves, to each other, and to our global community.

The first class of 23 students will celebrate their collective accomplishments during a special recognition event on April 9 and formally receive their degrees during UVic convocation ceremonies in June. The evening event takes place at the Songhees Wellness Centre where students will gather with their families to celebrate their accomplishments.
****
UVic's Indigenous law program graduates its first class
(From Capital Daily Newsletter)
In a global first, the inaugural class of UVic's Indigenous law program—the world's first law degree to combine Indigenous and non-Indigenous laws—will graduate this spring. Four years ago, the university launched the program with a joint focus on Canadian common law and Indigenous legal orders.
The 23-student cohort graduates with an understanding of 55 Indigenous legal orders, alongside Canadian constitutional law and common law. The graduating class will mark the milestone with a special recognition event at the Songhees Wellness Centre this evening—an occasion that not only carries significance for the graduates, but for those that preceded them.
"Over 27 years ago, a group of Indigenous law professors dreamed about teaching Indigenous law in law schools," says John Borrows, a Canada Research Chair in Indigenous law and co-founder of the program. "Now, the first JD/JID graduating class is ready to live these dreams and make real their own hopes, aspirations, and futures."
"Law is, in effect, a way to create meaning, and to understand the world. Your existence is entirely tied up in law—most people don't see that—it's implicit," Val Napoleon, interim dean of law, co-founder of the program, and Law Foundation Chair of Indigenous Justice and Governance at UVic, told Capital Daily.
"When you think about how important Canadian law is to people, all of those reasons are exactly why Indigenous law is important to Indigenous people."
While the program is the first of its kind, Napoleon says there's been interest in other parts of the world, including with the Māori people in New Zealand.
'Excited and humbled'
For Amanda Vick, a graduating student and member of the Gitxsan Nation, the degree—which spans a wide range of legal areas, from Indigenous governance, to criminal law, to environmental law—comes with an added purpose.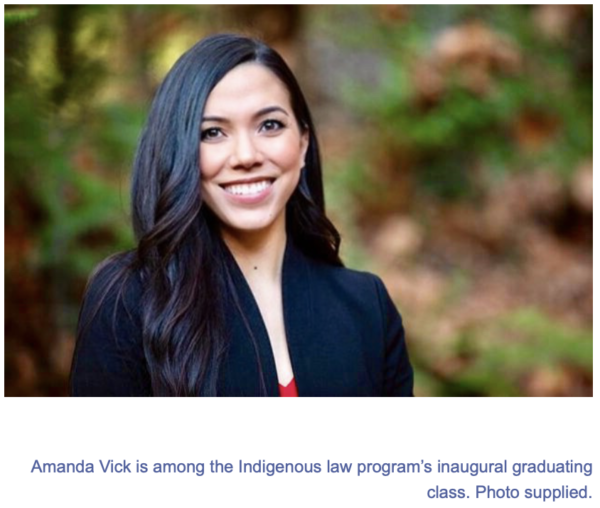 "I felt both excited for the journey and humbled by the responsibility gifted to me," she says of her studies. "We need more people in the legal sphere who are able to appreciate and utilize the knowledge of different legal orders in their practice."
For fellow graduate Beth Fox, a Blood Tribe member from Treaty Seven Territory in southern Alberta, one of the greatest benefits has come from the cross-cultural opportunities provided.
"One of the highlights for me was attending field school in Coast Salish territory," she says. "Because we had invested so much time and learning in the Coast Salish legal order and the Hul'qumi'num language, being able to be out there on the land and to connect our learning really made a huge impact on me."
****