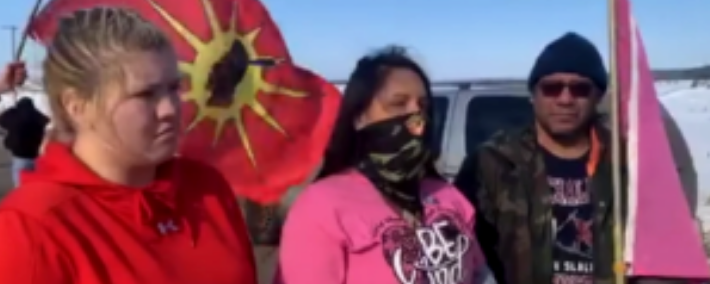 From protesting to building tiny houses, Indigenous women are the on the front-lines of change. Below are 2 posts illustrating their courage.
Women are the Face of Mohawk Resistance
Christopher Curtis, Montreal Gazette, March 1, 2020
https://popularresistance.org/women-are-the-face-of-mohawk-resistance/
On the front lines of the Indigenous resistance movement, it is young women — born after the 1990 Oka Crisis — who are taking a stand.
Kanesatake — Brigitte Rice had been on her feet for 24 hours by Tuesday morning, hoisting the Warrior flag in one hand and using the other to slow traffic into Mohawk territory.
She came to the blockade Monday to "hold it down" for the protesters arrested for stopping rail traffic in Tyendinaga that morning. Hours after the raid, Rice was among the dozens of Mohawks on the front lines in Kanesatake, sealing off access to the reserve to show solidarity with her sister community.
They lifted the blockade early Tuesday and are allowing a single lane of traffic to pass through the reserve along Route 344.
"My son asked me if he would have to do this when he grows up. It hit me hard," Rice said. "I really hope he doesn't have to. I was watching live when the RCMP moved into the Wet'suwet'en camp. I started crying. It really hurt me. I'm here for them. I'm here for our people, for the Mohawks arrested in Tyendinaga, taken to jail for defending their land."
As the provincial government announced plans Tuesday to try to dismantle the protest in Kahnawake, neighbouring Mohawk communities are on guard, ready to act in defence of their nation. The rail protests in Kahnawake and Akwesasne began in early February as an act of solidarity for the Wet'suwet'en hereditary chiefs blocking the construction of natural gas pipeline on their land in northern British Columbia.
The Ontario Provincial Police dismantled the Tyendinaga camp near Belleville, Ont., on Monday, spurring a blockade in Kanesatake and a slow-rolling protest on the Mercier Bridge. On Tuesday, Canadian Pacific Railway announced it has an injunction to clear protesters from their tracks in Kahnawake.
The Mohawk resistance is showcasing a new generation of activists, ones like Rice: young women born after 1990, women who are reclaiming the Kanien'kéha language and assuming their roles as clan mothers within a sovereign Mohawk nation.
"I only started learning the language at 13 but my son is learning it in school," she says. "He teaches me. I could cry just thinking about it."
Across from Rice, standing with the purple Iroquois Confederacy flag draped over her shoulder, Katsi'tsaronhkwas Stacy teases her friend.
"We're gonna be on the news," says Stacy. "Don't give us a hard time, we're tired!"
Stacy works at the Kanesatake treatment centre on weekends, helping people recover from addiction. She's a full-time student at John Abbott College with a penchant for arguing with her profs.
"One of my teachers used to be a judge, we get into sometimes," Stacy said. "I have a physical copy of the Criminal Code in my car, we have our own laws, we hold ourselves down, we exist but the government doesn't seem to recognize that.
"We were here for thousands of years, we have the Great Law of Peace but now that we're stuck on reservations we're a bunch of nobodies? Well, I want to learn the law so we can use the law to defend what's ours by right."
Standing behind the barricades Monday, Ellen Gabriel said these women are keeping a 1,000-year-old tradition alive.
"It is the women, in (Iroquois) culture, who hold title to the land," said Gabriel, who played a key role in defending Kanesatake during the Oka Crisis. "It is the women who chose the chiefs and who organize the community. The next generation needs a bit of guidance, but we're proud of their energy and their dedication."
Some of the enduring images from 1990 are of masked men, wearing camouflage and clutching AK-47 assault rifles in defence of Kanesatake. These were immortalized on television news, documentaries and in photos splashed across newspapers throughout Canada.
Nearly 30 years later, the face of Mohawk activism is a much different one. Standing near the women on Route 344, 'Greg' — who was 17 when he took up arms with the Mohawks — said he's happy to see that shift.
"We don't want violence, no one is looking for their 1990, no one wants to earn their stripes that way," he said. "We had to resist, we had to defend ourselves, we were worried the army would come in and kill us all. We don't want that for our kids.
"I'm proud to see these young, educated women who know their rights and stand up for our community."
As Rice approached her 26th hour at the blockade Tuesday, another young woman showed up to help stand guard at the hill that overlooks the port of Oka, the Lake of Two Mountains and the expanse that once was the Mohawk nation.
"We have no choice but to defend what's left of us," Rice said. "I'm not a political person but I've been forced into a political situation."
---
What I've Learned From . . .
Building Tiny Houses
to Block a Massive Pipeline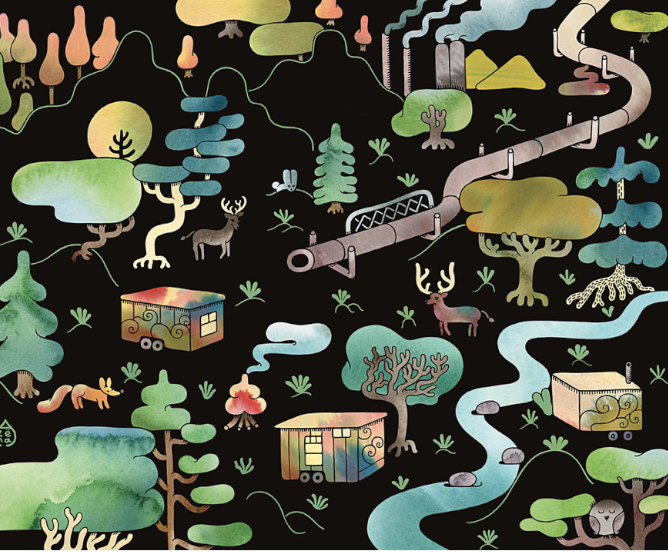 By Kanahaus Manuel, Chatelaine Magazine, March 8, 2020
Tiny House Warriors: Our Land Is Home in Unceded Secwepemc Territory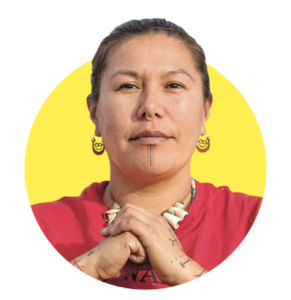 In 2016, I drove down to Standing Rock [a reservation that runs across North and South Dakota] to join the water protectors there [protesting the Dakota Access Pipeline].
They had some builders in from Portland who were going around constructing tiny houses for demonstrators, and they put a house up fast—about four days.
The police ended up raiding it. But around the same time, the women warriors in Secwepemc Territory and I were planning how to fight back against the Trans Mountain pipeline in British Columbia.
We wanted to block construction by living and breathing and occupying our land, but we never wanted to get arrested. We're Native; we've seen how we're treated in the court system.
It's not nice.
The warrior women came up with the idea of building tiny houses on wheels, so we could put them in the most strategic place at any given time of the pipeline's construction—and if the police come with their injunctions and their orders, we can move.
The first house was built in 2017 by volunteers using their own tools; Greenpeace donated $2,500 in lumber. We had nothing.
Now we have enough solar power that we can do a build anywhere. The panels are donated by [Indigenous solar project] Sacred Earth Solar; we have composting toilets and wood-burning stoves.
Our goal is to build 10 tiny houses, and we currently have six: 8.6 feet wide by 16 to 24 feet long, built on trailers and completely fossil fuel–free.
My twin sister is an artist, and she pulled together different artists to paint colourful murals on the outside of the houses, pieces that tell stories of our ways, responsibilities and laws.
I've said before that "we're going big by going small," and that's because the tiny houses are part of a bigger global movement that we also stand with: alternative housing, minimizing our imprint on the earth, solarizing to minimize energy consumption.
When you live out here—right now, I'm in a tiny house at Blue River, B.C., just an inch outside the pipeline's injunction zone—you have to rely on yourself.
We're about halfway between Vancouver and Edmonton, and people who live in the city are so dependent on systems for garbage removal, for heating, for waste.
We want people who volunteer here to think about how to switch to a greener way of living.
This year, I want to work with economists to look at how to build an economy that will benefit the earth and not destroy her.
There are a lot of Indigenous people around the world watching what we're doing—it's creative, and we've been getting requests from people all over, from Minnesota and California to New Zealand, to do the same thing.
It was really important to see the UN Committee on the Elimination of Racial Discrimination say in December that the pipelines have to stop without free, prior and informed consent of Indigenous people.
Canada has been really sneaky pushing federal frameworks that have extinguished our rights so we're no longer the decision-makers on our own territory—they've forced us on to 0.2 percent of our land base and claimed the other 99.8 percent.
So when we say we're going big, there are big laws and big rights that we have as Indigenous people, and the more we're seen on the international level, the more Canada can't hide.
The symbol of Tiny House Warriors is a little warrior with a heart. We want people to see that a small group of dedicated women, the fiercest of warriors, can accomplish a lot and bring people together from love—love for the land, for water, for people, for children.
That's the beauty of working with women. We have so much love.