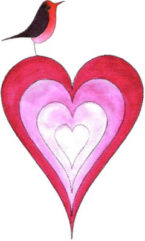 In the last few days my daughter has undergone abdominal surgery.
She has a small child, just turned one, who I am currently the primary caregiver for – this beautiful little being is a full-time job 🙂
Soon, my daughter will be living with me to complete her recovery, until she is able to care for her child again.
Sending Love Tuesdays on Zoom will continue but my Zoom classes on Wednesdays & Fridays will be suspended until such time my care-giving duties are not needed anymore.
My incredible gratitude 


to everyone
above & below
for the healing Love,

prayers & thoughts.
We so appreciate it.
Kathleen