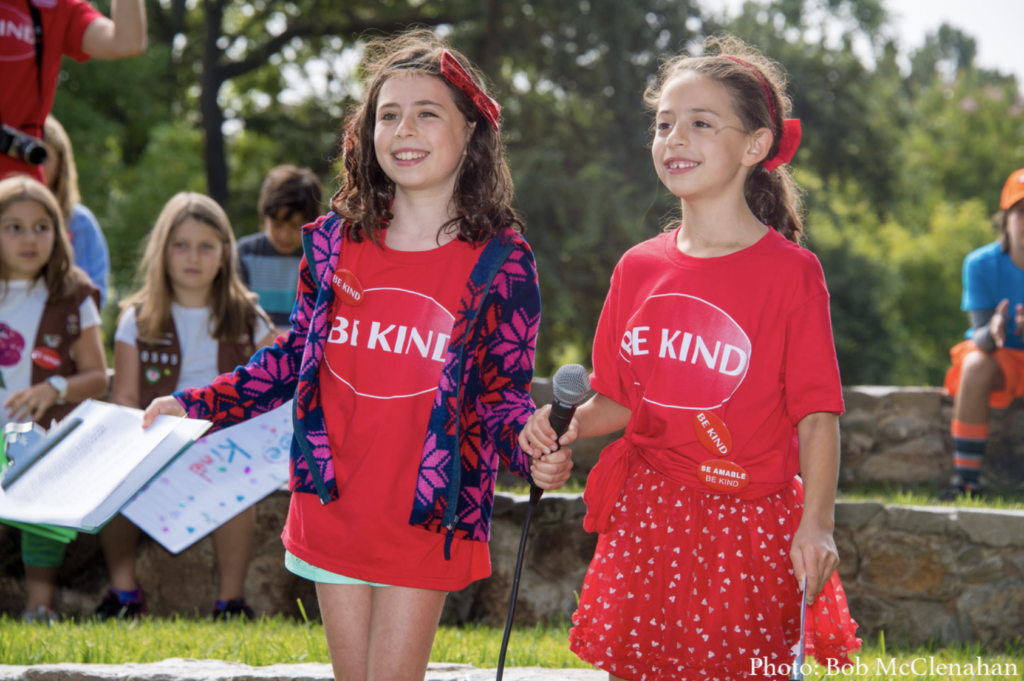 By Samie Hartley, August 18, 2018, www.napanews.com
Thank you to Petra for sending this wonderful news.
Hundreds of supporters gathered in Yountville to walk to the Veterans Home of California on Saturday in support of Be Kind Napa.
Hundreds of supporters walked through the streets of Yountville on Saturday morning to spread a simple message: be kind.
The Be Kind Napa movement, spearheaded by Talulah and Ruby Finkelstein of Napa – ages 11 and 9 respectively – continued its mission to make the world a kinder place with the second annual Be Kind Walk that took demonstrators from the steps of the Yountville Community Center to the Napa Valley Museum at the Veterans Home of California – Yountville property nearly a mile away.
Ruby led walkers in a chant as they moved through downtown Yountville just after 10 a.m. "When I say 'be', you say 'kind'. Be!"
"Kind!" responded the parade of people following the bright red 'Be Kind' banner that has been seen throughout Napa Valley over the past year.
As walkers reached the Napa Valley Museum, they pooled into the patio area in front of the museum where they were greeted with live music, bottled water and treats.
"I'm so glad to see so many people," Ruby said as she watched people file into the patio area. "I love this crowd. And they're all wearing their 'Be Kind' buttons."
"It's really easy," Ruby explained. "You wear your button to remind other people and yourself to be kind. If someone sees your button and says they like it, then you take it off and give it to them. You tell them to wear it and to pass it on to the next person who compliments it. Being kind is really easy, but some people need reminders."
Talulah echoed her sister about the effortlessness of kindness. "I think it's just important for people to be aware of their actions. Kindness is as easy as giving a compliment or smiling at someone. But at the same time, it's easy to be mean without realizing that what you are doing or saying might be hurtful to someone. Like you might burn (insult) someone behind their back just to make your friends laugh or to impress someone, but that's not OK. You wouldn't want people talking about you like that, and being mean to get a laugh isn't worth it."
Holly Finkelstein, mother to Talulah and Ruby, said she couldn't be more proud of what her daughters have started. The girls were inspired by family friend Laurie Phillips from New York.
Phillips noticed that people in New York City could be cold and unfriendly, so she created the 'Be Kind' button as a way to start a conversation and offer a dose of kindness to anyone who commented on her button.
When Talulah and Ruby heard Phillips' story, they asked their parents if they could do something like that in Napa, and Holly and husband Judd decided to embrace their daughters' mission with open arms.
"We talked about it during this eight-hour car ride from Los Angeles back to Napa," Holly said. "We spent the whole ride brainstorming, and I wrote down all their ideas. They wanted to do the buttons, but they were very adamant about having an event where they could walk through the streets with a banner singing and chanting and reminding people to be kind to one another. And that is how the Be Kind Walk came to be."
Holly said the crowd of well-wishers and walkers increased from last year's debut event, and she hopes the Be Kind Walk and the Be Kind Napa movement will continue to grow.
She said the girls have given talks at schools locally and as far as Hawaii. She said the girls are also working with a young girl in Chicago who heard about their movement and wants to replicate it in the Windy City.
Ashley Diener brought daughter Millie Diener-Malarek, 5, to the Be Kind Walk.
"We saw the girls (Talulah and Ruby) give a talk at the library and they gave Millie a button," Diener said. "I wanted to bring her to the walk today because the message is something we should all take to heart. We could all use a little more kindness in our lives."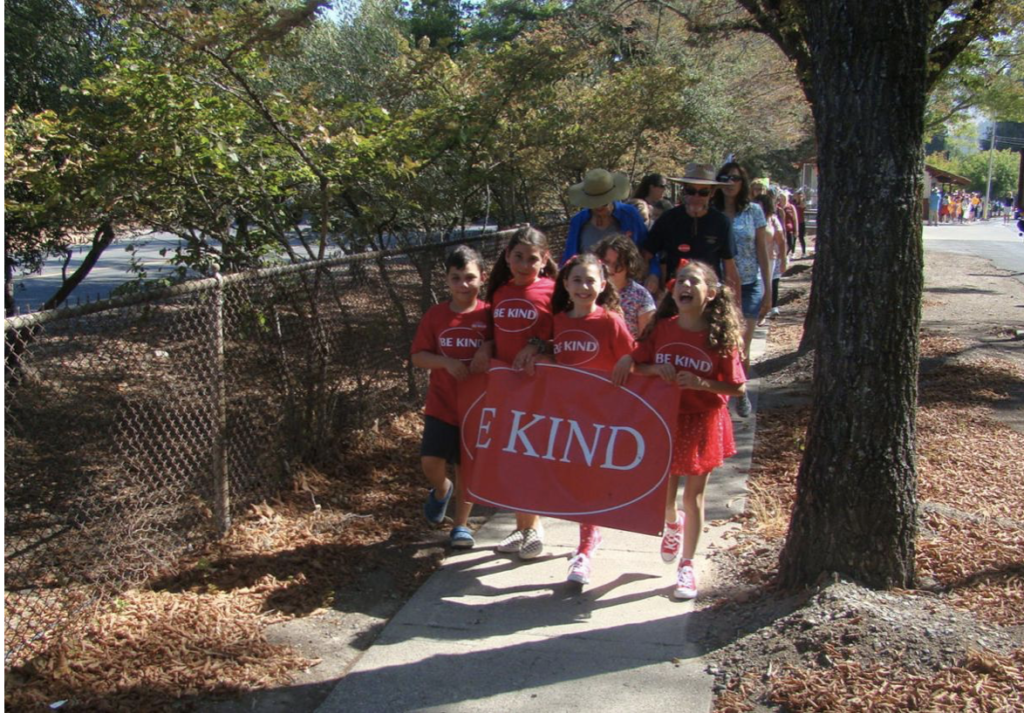 During the 'Be Kind' celebration, Millie drew a heart on a large 'Be Kind' banner that participants were encouraged to sign and decorate. Following the event, the banner was to be hung inside the Napa Valley Museum.
As Millie colored in her heart, she paused only to say "being kind is doing nice things."
Holly said the Be Kind Napa movement resonates with children because the message is easy to understand. "To a kid, the message 'Be Kind' is so obvious. Of course, you want to be kind and be nice to people because you want people to be nice to you. I'm really proud to see so many kids here today who support that message and want to spread it throughout the community."
As the celebration was winding down, Talulah took to the stage to offer parting words of wisdom to the crowd: "Everyone is who they are meant to be. That's just who they are, so don't judge anybody or don't comment about anybody even if they might look different or talk different or whatever. They might be a really nice person, so just be kind to them. If you don't, that is where hate and prejudice come in, and we don't want that at all.
"We just want you to be kind," she continued. "Kind people go way up high, but the mean people go way down low, and you don't want to be down on the ground, so come back up and be kind, OK?"
Earlier in the morning during a rally before the walk, Napa County Supervisor Brad Wagenknecht read a proclamation declaring Aug. 18 as Be Kind Day in Napa County.
To learn more about the Be Kind Napa movement, visit bekindnapa.com.