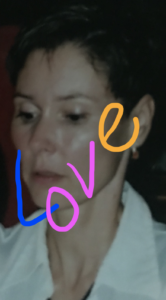 March 8th, 2020, is International Women's Day.
This year, leading up to the day, on the day of, and even the day after, we see planned protests around the world saying "Enough!" to violence and gender inequality.
The passion for this change comes from escalating violence and a collective heart conscious desire for Love and peace.
When I met my guides through a reading in 2011, I asked, "What happened? Why was my life so chaotic?"
I was told that I had learned what doesn't work, and that now the process of coming to balance — forgiveness of self — letting go sorrow, shame, blame, anger, fear, the lack of self-love and self-worth, all judgement, was at hand.
This is our Ascension, a time of Karmic Dispensation and creation of Heaven on Earth.
****
Below is an excerpt from my life:
In 1983 I married. By 2003 I was an alcoholic.
I would drink vodka for breakfast while living in a nice house and raising 3 teenagers.
The constant state of anxiety coupled with my fear had built to a crescendo over 23 years.
January 27th, 2006, the trapdoor opened and I flew out. . . away from that emotional roller coaster ride. . . into another. . .
There were more experiences to have.
The next relationship was more abusive, more extreme, and also built to a crescendo. This time in 3 years.
It ended with me in court facing into the relationship, looking at a photo album of bruises to my face and body.
I stopped, began to turn inward, to ask questions.
What happened and why?
I would listen to an Osho meditation every night at 6pm and fall asleep.
For a year I fell asleep and then one day I stayed awake during the entire meditation.
Then a man invited me to a workshop. I cried, and couldn't stop, during the whole day.
I didn't understand what he was talking about and I felt really afraid.
He gave us a crystal to hold and asked us to meditate 3 times a day for 5 minutes feeling unconditional love.
I hadn't heard those words together before – unconditional and love.
But I knew what that was. When I was a teenager my family got a dog. I Loved that dog and would squeeze it until it ran away from me.
My children I Love unconditionally. . . I know this feeling.
We all do. . . and it's patient.
Journeys into the dark are a way to the Love, the Light.
Repeating patterns of behaviour are a way to discover the Love of the Mother, the Light, the Truth of the Father.
We can go full circle again and again, with the Love, worth, joy for self — that balance — waiting patiently for us to feel, right there.
Forgiveness, I've found to be invaluable, along with compassion, and gratitude for everything.
This I found contemplating the tri-flame in the heart chakra.
****
Several years ago, I heard our planetary logos, Sanat Kumara, say we do not contemplate the tri-flame enough, so I started. . .
I found I control my self with the guilt of the past, and doing this I had attracted repeated lessons.
Now I volunteer in a drug and alcohol addiction recovery center with young people, and my life journey is something to draw on; it is invaluable, priceless.
I Am Gratitude to my self, that Golden Flame connected to the Father, in the tri-flame.
With my Pink Flame of self-Love and compassion, and my Blue Flame understanding the Mother's Forgiveness of Everything, Her Hope and the Law of Karmic Dispensation, I am finding that balance, that place of no doubt.
As within so without.
How I feel within affects the whole.
There's an unconscionable war in Yemen, refugees, starvation. . . over 35,000 murders in Mexico without charges. . . and 700,000 drug overdoses since 1999 in North America.
Balance within
creates balance without.
Have I forgiven myself?
Am I in gratitude for all my experiences?
Am I in a place of compassion, non-judgement of everything?
This has been my process to help create peace on Earth. . . for International Women's Day 2020. . .
Thank You
My Guides, my Circle, the Mother
I Am Gratitude