False grids are entrenched beliefs. Core issues are mental/emotional constructs. Our unconscious and sub-conscious entrenched beliefs create suffering, pain, aging while our unconscious and sub-conscious core issues create mental/emotional suffering, within and without.
Over the last couple of years I have been Divinely Guided to keep a consistent routine of pulling cards to help me understand and know the false grids and my core issues.
As one of my 6 Co-creation Projects, I will post here explanations of my daily card spreads to show how easy and fun this is to do, a way to conscious awareness of wholeness.
I use Angeles Arrien's The Tarot Handbook, and the Thoth Tarot Deck, designed by Aleister Crowley and painted by Lady Frieda Harris. I also use The Sedona Deck Oracle and Medicine Cards by Jamie Sams and David Carson.
For more information, here is a post I wrote:
False Grids and Core Issues: How to Understand and Know Them
I invoke
St. Germaine and the Violet Flame

,

Archangel Michael with his Blue Flame of Truth

,

Archangel Raphael with his Emerald Flame

,

Archangel Uriel with his Silver Flame

to understand and know what I have hidden away, not wanted to look at, and for conscious awareness of my wholeness.
I invoke
Archangel Gabrielle to fill in my grid with her Golden Joy

when false grids are lifted or there is understanding of my core issues.

July 17th, 2017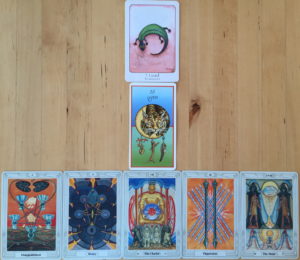 There are 2 sets of cards for today as I had questions about 2 very different events.
The first set had 3 of the false grids, a cause for celebration! Even though there is discomfort and sleeplessness, it is a huge opportunity for old energy to be gone for good, the letting go of the strangle-hold of triangular energy.
The first set:  7. Lizard, the unexpected, and then 18 Lynx, Secrets, show that I was taken by surprise.
The Tarot cards of 5 of Cups, Disappointment, 5 of Disks, Worry, 7 Chariot, 10 of Wands, Oppression, and 18, The Moon, give me a clear picture.
My interpretation:
Disappointment, Worry and Oppression in the Tarot are the false grids that I invoke Archangel Michael with his Blue Flame of Truth for understanding. These 3 false grids form a triangle of energy that I do not wish to carry any longer, that have created much illusion for me.
The disappointment, here, is emotional, physical separation, abandonment, no apology/no forgiveness, me holding the subconscious grudge. Because I was unconscious of how this energy manifests, similar situations of often extreme discomfort repeated over and over in this life.
The worry, here, is what I perceive as broken trust, communication. The oppression is control, punishment, and separation.
The Eternal Flow of Change, The Chariot, is the Love that includes forgiveness of everything.
I can choose with The Moon to delve into the past and see the repeating patterns, where the triangular false grid energy manifests dis-ease, discomfort. Seeing the repeating patterns is my understanding.
I invoke Archangel Michael to lift the false grids
of disappointment, worry, and oppression,
and for Archangel Gabrielle to fill in my grid with her Golden Joy,
conscious awareness of my wholeness.
With The Moon, we recognize our freewill choice, to decide to heal. With choice we can hold on to old ways of being, or release, let go, the false grids that no longer serve us, so we become the totality of Who We Are.
I sit still, for a long while, as the old energy is lifted. The old grids feel like hard stringy toffee being pulled from my upper and lower teeth, jaws, roof of my mouth and throat. When the process is complete there is celebration. Each celebration is unique.
I encourage and applaud all who do this work.
Much much gratitude to Archangel Michael and Archangel Gabrielle.
The Second Spread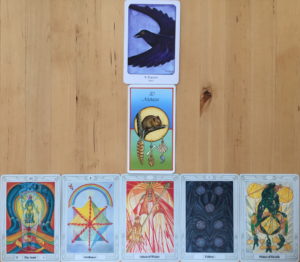 This second spread illustrates listening, 4. Raven, in detail, 20 Mouse, to another.
20 The Aeon reminds us to be discerning with each other. When looking to the past, to forgive ourselves for all judgements.
Old grids and issues in relationships, when communication is swift and direct, 8 of Wands, with compassion can be transformed, Queen of Wands, from fear of failure, 7 of Disks, mentally understanding and letting go, cutting away old ways of being, the Prince of Swords, to discover Who We Truly Are.
Myself and another each spent quite some time apologizing, forgiving, anchoring forgiveness, for events of the past. We took turns, listening, hearing, stating, "You are forgiven" or "Your apology is heard and accepted" for our unconscious and even sub-consciousness behaviour, on and off planet.
Again, I so encourage this work. Understanding and knowing Who We Are is a constant state of forgiving.
---
July 16th, 2017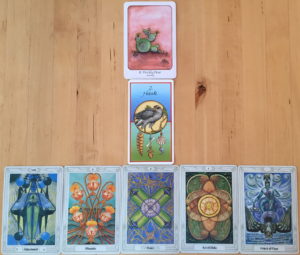 Generally the cards tell me a picture of the day before. These cards illustrate the healing — the coming to greater balance — I felt from more apologies I extended out, forgiving and forgiveness, past, present.
The top card is 8. Prickly Pear, diversity. The second card is 2. Hawk, messenger. The Tarot cards are 8 Adjustment, 6 of Cups, Pleasure, 4 of Swords, Truce, Ace of Disks, and Prince of Cups.
My interpretation:
We are unique messengers in this time of Ascension, our coming to balance, Adjustment, within is our healing, Luxury. We come to peace within, Truce, with the highest manifestation, Ace of Disks, of emotional balance Prince of Cups, the more (I have noticed) I am forgiving, by extending apologies for what has transpired, and being the forgiveness.
Peace within creates peace in the without, individually and Universally.
April 2015, Universal Mother Mary through Linda Dillon, talked to me of "the power of forgiveness and compassion."
She said, "Apologies, receiving a genuine again, 'I'm sorry,' when someone says that truly from their heart, it is a request for forgiveness, and so in the person receiving the apology, it is not only the transmutation — and what I would call the rectification of an injury — it is an expansion of the receiver to then from a higher realm grant forgiveness and feel compassion."
For the past 2 years I have been asking for apologies, and extending forgiveness, and lately more and more, extending apologies for my past behaviour, not only in this life, but through my guides, my I Am into the past and to The I Am.
I am finding there is always more,
new levels of conscious awareness of our wholeness.
I am very grateful to my circle,
for helping me to see this picture through the cards.
---
July 15th, 2017
Today the cards are really interesting! Thank you to my circle for the understandings, especially to St. Germaine.
The top card is VIII. Thunder Mountain, let it bounce off.
The Medicine Card, in the middle, is 44 Hummingbird, contrary (up-side-down).
The Tarot Cards I pulled from left to right are 5 of Swords, Defeat, 20 The Aeon, 14 Art, 8 Prudence, and the Ace of Cups.
I learned today that some of the false grids and core issues have an opposite reflection, that we can find our joy, our sacred purpose by exploring our pain, what hasn't worked, how this can be illustrated by the cards.
Here is my interpretation:
We can detach from old energies, "let it bounce off", by journeying into our sorrow, finding understanding, then acting, often by apologizing/forgiving, acknowledging our sorrow, our fears.
Fear of defeat — moving forward by clearing/apologizing/forgiving — can be overcome from a place of balance, The Aeon, by facing into the what disturbs us, Art, to find our artistry, wisdom, prudence, which helps our heart centre open where our joy, our purpose, our service is.
We discover Who We Are facing into our sorrow, and overcoming our fears.
In this case I felt my sorrow and fear in my teeth and throat. With more understanding of what to apologize for, and apologizing so it is heard whether it is to another or at the Karmic Board, the old energy transmutes to joy — there is integration of the old creating the New — the Art card and Ace of Cups.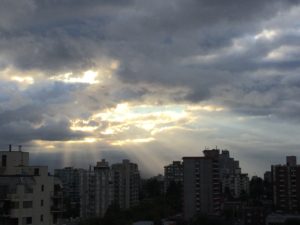 A beautiful gift early this morning,
joy within and joy without.
For the last 2 years I have been Divinely Guided along a journey of apologizing, forgiving and forgiveness, and felt a miraculous transmutation of 'the old' to joy.
Nova Earth,
the new balanced reality we all desire, free from all war and chaos,
could we create it with apologies and forgiveness,
within and without?
---
July 14th, 2017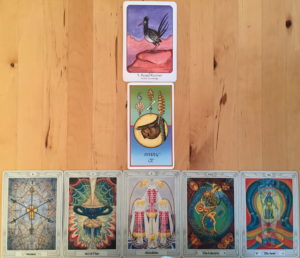 Today the picture from my cards is one of hope. Much gratitude to my guidance, the Mother, my circle.
The first card, at the top, is Roadrunner, trust and knowledge.
The one in the middle, up-side-down, is 20 Mouse, Scrutiny. These cards have two messages, depending on which way the card turns over. I have learned not to judge the messages, criticize myself — to read them in balance — find what resonates, the message from my guidance.
The words in Jami Sams book, Medicine Cards, that pop out are: "all good things come to those willing to work towards wholeness", that the details are important.
The Tarot cards above are 6 of Swords – Science (of the mind), Ace of Cups, 3 of Cups – Abundance, 21 The Universe, and 20 Aeon.
How I interpret this message:
The mind, 6 of Swords, is coming to balance (those details of Mouse) heart consciousness, Ace of Cups, Love with wisdom, trust without over-extending, 3 of Cups, the abundant communicating heart, joy that radiates out creating 21 The Universe — Universal Love — from that place of balance, self-trust.
20 Aeon is looking at our history, the whole, the overview without judgement, in forgiveness and gratitude, giving birth to the New.
Coming back to the scrutiny of the Mouse, from my understanding and work, our compassion for each other, reaching out that helping hand in kindness, sharing, and nurturing is our Nova Being and Nova Earth.
Our work to wholeness can be apologizing for our unconsciousness, being in that constant state of forgiving everything, especially ourselves, that Yeshua speaks of — Loving our neighbours as ourselves — taking the time to pause, to understand the reflections, the past lives, the false grids and our core issues we see, and taking the Loving action within and without.
I am thankful for the information of the Aeon card. Yesterday, an aspect of myself, made herself known and asked to apologize for events that had transpired in her life that effected our fellow humans years ago. We did this together in front of Steve. My aspect and myself are so grateful that Steve heard us.
How we feel in this life can be directly related to what has happened in the past.
Lack of self-worth and lack of self-love can be discovered and let go
by invoking our Divine Guidance, the Flames, using cards,
then pausing to ask where it arises from
and taking the Loving action.
****
There is a fentanyl crisis, world-wide. Many are dying. Why? Could it be related to our inner state of being?
As we come to balance, let go our addiction to pain — lack of self-worth and self-love — our outer reality will reflect our conscious wholeness, that inner peace and Love.
Apologies and forgiveness, compassion, builds our new reality for everyone.
---
July 13th, 2017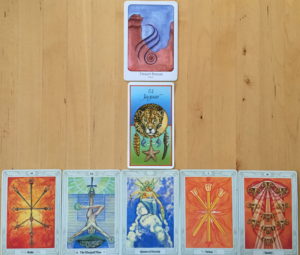 Each day I use cards from 3 decks. I pull and place them as I have above. The placement of the cards is a picture that helps me to put into words what is transpiring in my life.
The top card, Desert Breeze, force, is from The Sedona Deck Oracle.
In a reading, May 2012, with Archangel Gabrielle through Linda Dillon, I was told I can be a force. I am learning to be 'the force' of compassion, forgiving and forgiveness, kindness, with tenderness, gentleness.
As Steve and I are daily doing Project Kindness with Sanat Kumara, this card is reminding me, being 'the gentle force' of kindness we change the world.
The second card from Jami Sams' Medicine Cards, 51 Jaguar, symbolizes Integrity/Impeccability, with its medicine being to "devour the unclean aspects of human behavior". The Law of Intent comes to mind, where SK says how important it is that every thought, every action be in Divine Alignment, in balance.
Jaguar medicine teaches us "that personal integrity allows for mistakes, embraces forgiveness, and humbly makes self-directed corrections allowing a rebalanced spirit to triumph."
I am reminded of past experiences taking steps to apologize, coming to forgiveness of everything, and now doing the same again but with greater expansion as I reach new levels, 'ever-lightening my load of old ways' to become Nova Being.
The small poem in the book sums up:
Sacred Jaguar teach me. . .
To wear my power lightly,
To walk with impeccability,
To approach life with compassion,
And to live up to the integrity of my human potential.
The Tarot cards from the Thoth Tarot Deck, designed by Aleister Crowley and painted by Lady Frieda Harris, today are 10 of Swords – Ruin, 12 The Hanged Man, the Queen of Swords, 3 of Wands – Virtue, and 10 of Cups – Satiety.
As I look at them they form a picture:
I see my core issue fear of ruin, that that pattern is breaking, with the clarity of the Mother, with the quality of virtue, integrity, apologies and forgiveness, that mind, heart and will are working together to create joy, balance.
The way the cards are positioned creates a message to interpret.
I feel from the message in the cards, with help from Isis, St. Germaine and the Violet Flame and Archangel Uriel and his Silver Flame, that I should deeply apologize again with all my heart to all beings I have hurt in this lifetime, and in certain past lifetimes, and to Gaia. I'm so very sorry.
Over the coming days I will ask where there is deeper work of apologizing to be done, more forgiving and more forgiveness of self.
I will read Angeles Arrien's The Tarot Handbook for information pertaining to each of the Tarot cards and I will meditate for greater understanding and knowing from my guidance, apologizing and forgiving, Love and peace.
With the clarity from the cards it is much easier to understand and know the false grids and my core issues, receive messages, to see what I have to let go, and the action steps to take to come to balance. There is always more. . . 
****
This morning ritual of pulling cards I have found invaluable.
I am in huge gratitude to my guidance, my circle,
for all their teachings, helping me navigate
this process of Ascension to balance.